Vastatosaurus Rex is the main antagonist in King Kong. They are descendants of Tyrannosaurus Rex. It was 20-25 feet (6-7.6 meters) tall, 50-60 feet (15.2-18.2 meters) long and weighed 10-15 tons (20,000-30,000 pounds). They were killed by King Kong. It can run up to 25 mph and can jump really high for its size and mass.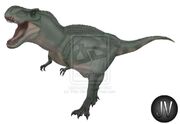 Ad blocker interference detected!
Wikia is a free-to-use site that makes money from advertising. We have a modified experience for viewers using ad blockers

Wikia is not accessible if you've made further modifications. Remove the custom ad blocker rule(s) and the page will load as expected.