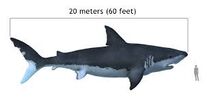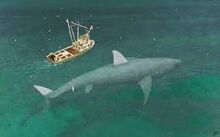 Megalodon was a prehistoric giant shark that lived 15-1,5 million years ago from the Miocene to the early Pleistocene during the ice age. It was 20,3 meters long and was a bigger version of the great white shark. It was the biggest cartilaginous fish and the largest shark ever. If megalodon survived the ice age and was alive today, it could eat whales,dolphins, sea turtles, fish, giant cephalopods and swallow a human and a seal in one bite. Some believe megalodon is still alive today and is maybe 30 or 40 meters long, bigger than the prehistoric ones. Megalodon ate eveything that moved. As the climate got coulder and the Ice Age began, megalodon's prey began to die out and the megalodons suffered and became extinct. Megalodon was featured in Shark attack, Megalodon: the monster shark lives, Sea monsters and other series.
Ad blocker interference detected!
Wikia is a free-to-use site that makes money from advertising. We have a modified experience for viewers using ad blockers

Wikia is not accessible if you've made further modifications. Remove the custom ad blocker rule(s) and the page will load as expected.